Contact Niall
"Any thing any where any time – considered" is my corp. tagline. I am a fairly informal person and I do answer emails – as I travel a fair bit email is the best way to contact me.
International Cell Phone: +353-86-067-8849
Office phone : +1-602-332-6779
Skype : nreynol1672
Email: niall@tacaintl.com
Locations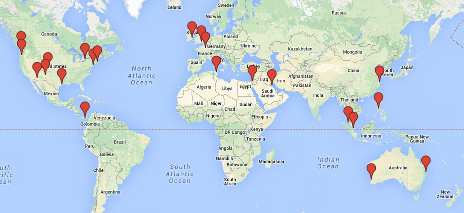 Niall has worked at the following locations:
USA: Albuquerque, Boston, Colorado, Phoenix
ASIA: Singapore, Philippines, Malaysia, China
EUROPE: Ireland, Scotland, UK and France
MIDDLE EAST: Kuwait
AUSTRALIA: Brisbane, Perth
CENTRAL AMERICA: Panama
Positions held to date
Niall has many years of professional experience holding senior staff positions as outlined below. See below for details of Niall's positions held to date.
Founder/Owner/President of TACA International
Consultant Subject Matter Expert for www.enstoa.com
Finance Controller – Intel in Phoenix, USA
Regional Cost Contracts Mgr' – Intel based in Singapore
Senior Cost Contracts Manager -Intel based in USA
Cost Contracts Manager – Intel based in Ireland
Contract Administrator for LMB on EuroDisney based in France
Consultant to MEW Kuwait on large infrastructure projects
Senior Project Manager – SPS on Whitbread's City of London HQ
General Manager and Director Scandinavian, Norema A/S subsidiary in Ireland
Professional Quantity Surveyor – ORHT -Ireland
Construction Cost Auditor – Shaw & Hatton for Chevron in Scotland
Contracts Engineer – Shaw & HAtton for Shell in London
Cost Engineer – Scotland
Qualifications
Diploma in Construction Economics – Degree equivalent from College of Technology (CoT)
B.Sc. (Surv). Externally awarded by Trinity College, Dublin University in recognition of CoT's Diploma
M.A. (Honoris Causa) from Trinity College, Dublin University
Professional Associations:
Associate of the Royal Institution of Chartered Surveyors (Resigned 2014)
Associate of the Chartered Institute of Arbitrators (Resigned 2010)
Member of the Association of Cost Engineers (Current)
Member of the Disputes Resolution Forum (Current)
Major system / applications used